The Superior Community Choir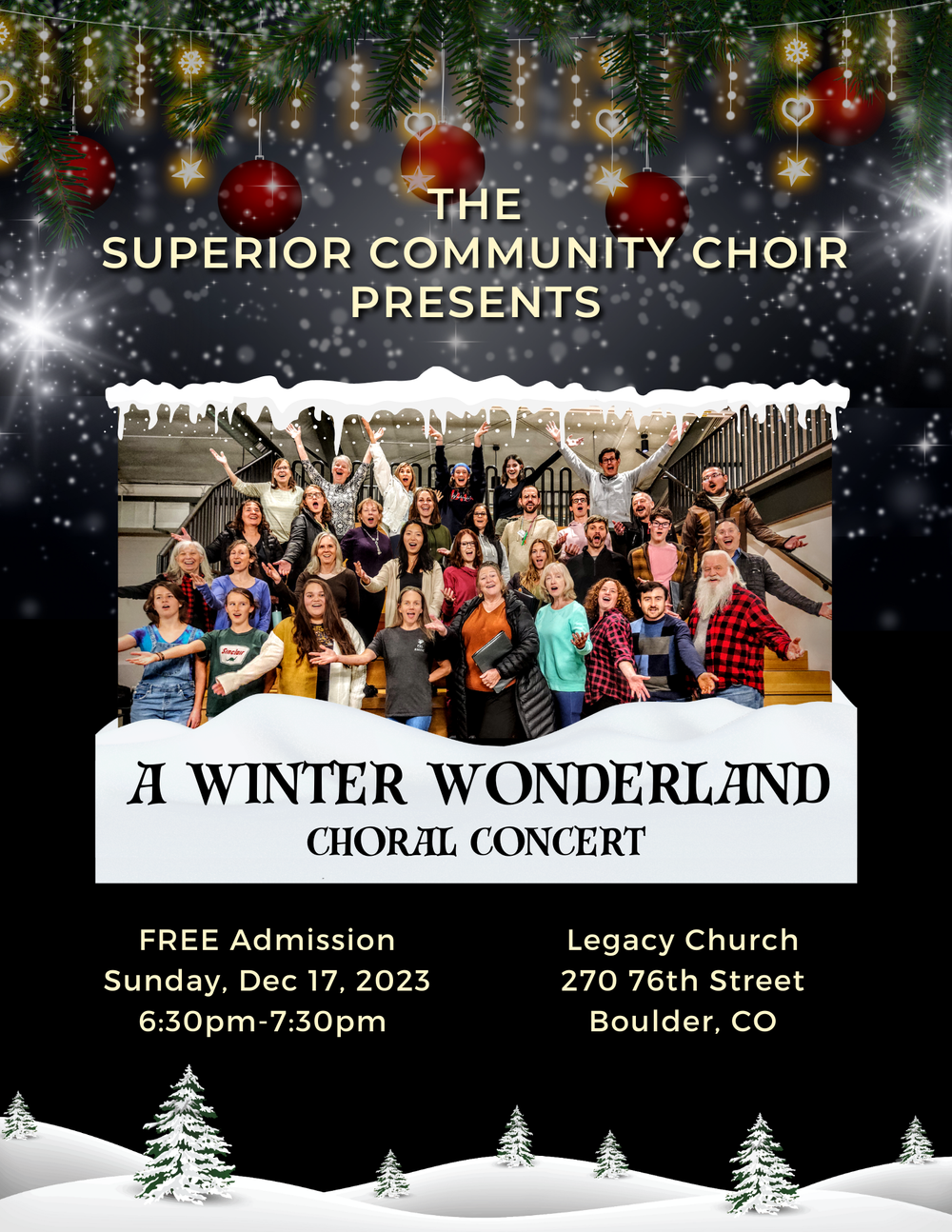 Upcoming performances!

Date: Saturday, Dec 2nd
Location: Superior Community Center
Time TBD
Date: Saturday, Dec 9th
Location: Superior Community Center
Time: 2:30pm-3:15pm

Date: Sunday, Dec 17th
Location: Legacy Church
Time: 6:30pm-8:00pm
About the group:
- Open to the Superior Community (and friends)!
- This is a non-auditioned ensemble; meaning all skills and experience levels are welcome.
- The main focus of this group will be learning how --and executing-- to sing in a choral setting: singing in 3 to 4 part harmony (and quite possibly more), working on matching pitch and vowels with fellow singers, learning to sing with musicality and depth of heart, and ultimately experiencing the unique sensation of singing together.

Details:
- Where: Rehearsals are held at the Superior Community Center (1500 Coalton Rd)
- When: Thursdays 6:30pm-8:00pm
- There is a one time fee each session of $5 to help offset music cost
- Speaking of music, everything will be provided for you! All you need to bring is yourself and joy --or curiosity-- of singing!
Dates:
- There are three sessions via the community center:
Winter/Spring runs mid January - April
Spring/Summer runs May - August
Fall/Winter runs September - mid December
(Each session flows into the next, so if you want to keep singing, we are there!)
- Performances are TBA
"What do I need to do to join?"
- This ensemble is part of the Community Center enrichment program
- To sign up, go to the Town of Superior Catalog website. Click on the 3rd tab labeled Community Center Programs. Scroll down and click on "Community Choir" under the Enrichment category. (If you're on a phone, you may need to click one more time on the details box under the description)
- From there, follow directions to make an account and sign up!
Can't wait to sing and make music with you!
(For any questions/concerns/comments, fill out the contact form)